Booster vs GoFundMe: Which is a better fit for my school? | Booster
In a world where practically anyone can raise funds for anything online, fundraising has exponentially grown. Popular crowdfunding companies like GoFundMe have especially sky-rocketed in popularity. But when it comes to school fundraising, is it better to go with a crowdfunding platform or a school fundraising platform?
In this blog, you'll learn more about:
Are there better alternatives to GoFundMe for schools? And what's the difference anyway?
To help you answer these questions, we're breaking it down for you in this Boosterthon vs GoFundMe line up. We'll review both fundraising platforms comparing: features, user experience, customer support, fundraising tools and resources, and student engagement opportunities.
Boosterthon vs GoFundMe: Platform Features and Experience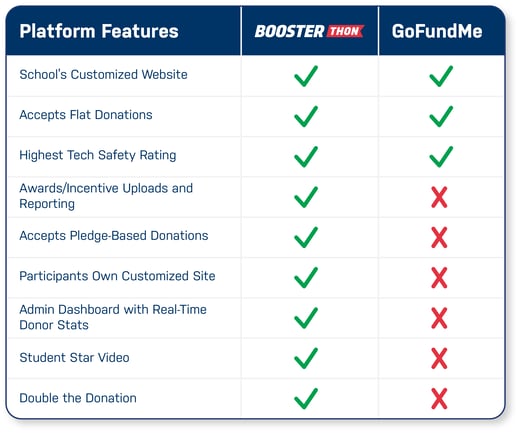 Features
GoFundMe and Boosterthon
GoFundMe and Boosterthon have a lot of similarities when it comes to online donation features including: excellent customizable websites, mobile device capabilities, and ease of sharing via social media and text. They both have the highest tech safety ratings.
The customizable websites are similar as well. They display a write up of the fundraising story you want to tell, show fundraising goals, have a place to upload photos and videos, provide real time donation updates, and have an easy to see donate now button.
With GoFundMe, you set up your donation website all by yourself. That's great if you love tech, but can be difficult and intimidating if you aren't tech-savvy. As an alternative, with Boosterthon, a consultant will create your customized website for you and help manage it.
User Experience
GoFundMe
Because GoFundMe is a crowdfunding company created for anyone to raise funds for anything, the platform stays generic enough that it will fit any fundraiser's needs. There are two platform experiences GoFundMe provides: the fundraiser experience and the donor experience.
The fundraiser experience is pretty straightforward and easy to use. As a donor, it's just a few simple clicks and you've donated. It's clear and easy.
Boosterthon
Boosterthon boasts an equally quick and easy donation process. As a fundraising company created specifically for school fundraising, Boosterthon's platform is well-suited to the school fundraising environment.
It optimizes the experience for the PTA parent (who is managing it all), the teacher, school administrator, school families, and just as importantly the students. Teachers get their own dashboard to manage class participation. The PTA parent has access to incentive reports and their own dashboard with real time donor stats, and families just need one account even for multiple children.
Each student has their own customized donation page where parents can easily upload a photo. Then Boosterthon creates a customized video starring the student to make it more fun to share about the fundraiser.
Boosterthon vs GoFundMe: Customer Support
GoFundMe
GoFundMe has Customer Happiness Agents, who are real people excited and ready to assist with any questions you may have via email support 24/7.
Boosterthon
With Boosterthon, there is a more involved support process. From day one you are connected to your own Client Care Consultant. That Consultant learns more about you and your school goals.
From there, the Client Care Consultant works with you on everything from the best timing for your fundraiser to deciding your incentive strategy. They walk you through the whole fundraising process from start to finish and sometimes they bring their whole team and show up at your event.
With Boosterthon you have the option to level up or level down your customer support service level based on your school's specific needs. The basic "Support Service" package is fairly robust with a powerful fundraising platform, expert Campaign Consultant, campaign strategy, school fundraising materials, a character curriculum program, prizes, and event day support materials.
At the "Shared Service" level, you get everything that comes with the "Support Service" level plus Boosterthon's beloved on-campus team will emcee your school fundraiser Event Day, including full set up and tear down. At the "Full Service'' level, you have an entire Boosterthon team serving you for a week. They take care of every detail from the first car in the carline to the grand finale Event Day at the end of the week.
Boosterthon vs GoFundMe: Fundraising Tools and Resources
GoFundMe
GoFundMe offers a large library of blogs and how-to content on fundraising in general that is pretty easy to access.This is great for the PTO volunteer who has a lot of time on their hands, loves to research and wade through information, and can find what's valuable in helping them set up their online school fundraiser.
Boosterthon
New and experienced fundraising volunteers can get inspired with Bosoterthon's huge library of expert fundraising tips including time-saving tools, training and a variety of fundraising pro tips.
Resource offerings for a Boosterthon fundraiser include strategy, prizes, Hollywood-quality character curriculum videos, printed spirit wear and swag, and event day options such as a Fun Run, Dance Fit, Glow Run and more. With 20 years of school fundraising experience, Boosterthon has perfected every step along the way.
Boosterthon vs GoFundMe: Student Engagement Opportunities
GoFundMe
Because GoFundMe serves such a broad customer base, the main gist of their product offering is the platform itself and therefore they don't have any extra program features.
Boosterthon
Each year Boosterthon creates a new program theme that incorporates filmatic storytelling and character building. Students get immersed in a story they want to be a part of, which helps them have fun raising funds for their school. To top it all off, every student gets to participate in a celebration event like a fun run or dance-a-thon at the end of the fundraiser.
Boosterthon vs GoFundMe: Conclusion
So what's the best choice? GoFundMe is really suited for the PTA team that:
Has all the fundraising pieces planned out

Already knows what their fundraising event will be

Created a fundraising program for the week leading up to the fundraiser to motivate and get the students involved

Has 12+ active volunteers and a strong leader to help execute their plan
In that scenario, GoFundMe is the best option. Booster Tech also offers a resource similar to GoFundMe called Pledge-a-thon with several school-specific options that make it a great fit for school fundraisers. This option can be a great middle ground for those hoping to do a DIY fundraiser but needing a little more school-specific fundraising guidance and options than GoFundMe can provide.
Boosterthon is suited for the PTA team who:
Wants to give students a fun experience with a full fundraising campaign

Needs more of a guaranteed profit for their fundraising success

Is looking to save time and stress

Needs guidance to get started

Has 1-8 volunteers
In that scenario, Boosterthon might be the best fit for you.
Need help deciding? Connect with a complimentary Boosterthon consultant in your area today.
Back to All Articles