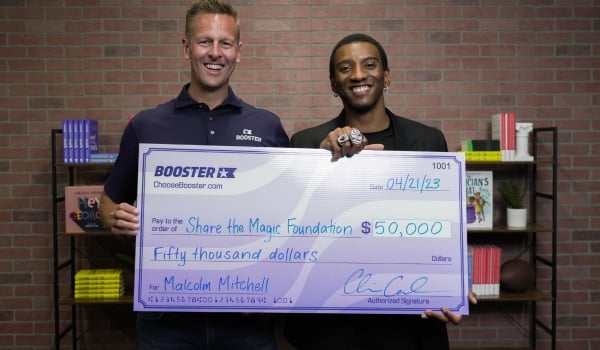 Booster Gives Back to Organizations Dedicated to Helping the Next Generation
Booster's company purpose is simple but ambitious: to change the world.
In support of that purpose, we are active in the local communities we serve, donating time through volunteer work and offering financial support to organizations that have a shared mission to build up the next generation.
This includes Super Bowl champion Malcolm Mitchell's Share the Magic Foundation.
The Share the Magic Foundation was founded by Malcolm in 2016 with the goal of transforming the lives of children through literacy.
Malcolm developed a love for books his freshman year of college after years of struggling with literacy. This newfound passion had a profound impact on his life, increasing his curiosity and opening up a whole new world of learning.
Booster began its partnership with Malcolm in 2021 and has since donated more than $100,000 to the foundation.
The latest contribution came in April 2023 when Booster Team Members and local community leaders had the opportunity to listen to Malcolm's story in person at a Booster Leadership event.
Booster Founder and CEO Chris Carneal presented the Share the Magic Foundation with a $20,000 check to further help the foundation's vital mission.
The funds Booster has contributed help support multiple initiatives of the Share the Magic Foundation.
This includes its Virtual Reading Challenge, READCamp. This summer reading training camp is free to all Pre-K through 8th grade students. It challenges students to stay in reading shape while having fun during their summer break.
In 2022, approximately 32,000 kids from 48 states logged nearly 13,000 books for READCamp! Malcolm knows first-hand the profound impact reading can have on a child.
Booster is proud to support this important cause. We also continue to identify other organizations and opportunities where the company can donate its time and resources to support future generations.
Back to All Articles