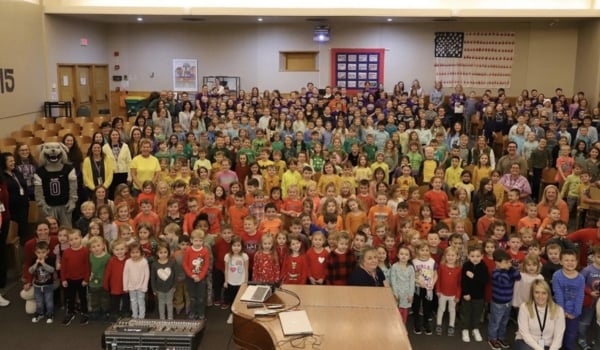 Booster Celebrates 20 Years by Launching the Strengthening Schools Grant Program
Booster strives to help schools thrive every day, so it was only fitting to celebrate our 20th anniversary by launching the Strengthening School Communities Grant Program, which awarded 20 elementary schools a $1,000 grant.
The grant winners, who were chosen via a random drawing, used the funds in a variety of ways, all with the goal of strengthening their school communities.
One grant recipient, Charlotte Avenue Elementary in Hamburg, New York, used the grant to host its first ever schoolwide STEAM Day.
The teachers were excited to give all of the Pre-K through 5th grade students fun and exciting hands-on opportunities for learning and collaboration.
The day-long event kicked off with a domino run created with more than 600 cereal boxes donated by school families, all of which were donated to the local Feed More organization after the event.
From there, the grades rotated through eight stations where students were challenged to work through different STEAM activities and problems both individually and in groups.
"This day is outstanding, and it's so exciting not just because of what the kids are doing, but also because of the community coming together," said Danielle Lango, Principal of Charlotte Avenue Elementary. "We know that this is a day that's going to last in our hearts and minds forever."
The grant funded all of the supplies for the STEAM Day stations as well as the ability to purchase STEAM kits to create a STEAM lab. This is now a permanent addition to the school, so students can continue to enjoy learning even after the event has passed.
For Booster, it has been rewarding to see all the creative ways Charlotte Avenue Elementary and other schools have used the grant to strengthen their communities. We are honored and thrilled to be a part of some amazing projects this school year!
Back to All Articles