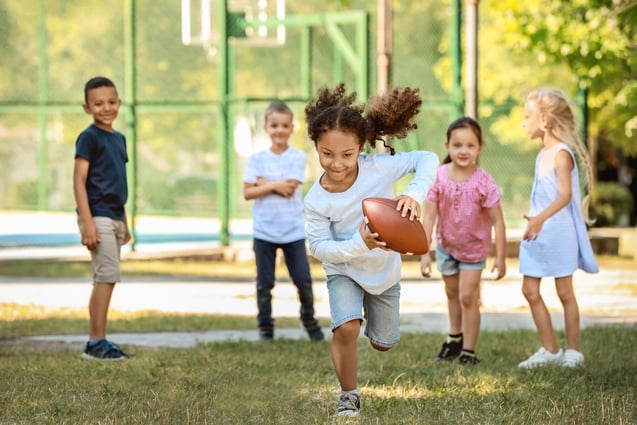 Outdoor Fundraising Events For All Kids To Enjoy | Booster
Fresh air, sunshine and smiles go well together, making the outdoors the perfect setting for your next big school fundraiser! Get inspired with these outdoor school fundraising ideas and host your school's most memorable fundraiser yet!
In this blog, you'll learn more about:
Outdoor School Fundraising Ideas:
Fun Run - Transform your field or parking lot into a high-energy racetrack with tents, flags, cones, tunnels, and family-friendly music! Your school can earn donations by getting pledges for every lap students run.
Take your fun run to the next level by making it a color run! With this option, teachers and volunteers get in on the fun by throwing safe, FDA-approved colorful corn starch from color stations as students run around the track.
Color runs are especially popular with older students. So offer this unique experience only for the older students to make them feel special and keep them excited about your fundraiser!
Get help with your fun run from Booster. There are a variety of service levels to choose from, ranging from full service to simply support or shared service on the day of your event.
Dance-a-thon - This action-packed outdoor school fundraising idea is great to get the party started with some fresh dance moves! Go freestyle and let students show off their best dance moves, or lead them from the stage with special moves to try all together. This fundraiser lets your school raise money with pledges for every minute students dance!
Use the beloved video game Just Dance during your fundraiser, with the help of Booster's Dance Fit program, for a fundraising experience your students will never forget!
Car wash-a-thon - This oldie but goodie is the classic outdoor school fundraiser. Take pledges ahead of time, and instead of laps, see how many cars your students can wash during your fundraiser!
Local Olympics - Host mini competitions at stations throughout your fundraising area. Keep the activities light-hearted and fun, such as rock-paper-scissors, cornhole, double-dutch jump rope, egg toss, hopscotch, sidewalk chalk art competition, tug of war, pie-throwing contest, dunk tank, and frisbee tic-tac-toe. You can choose how many activities to tackle your first year and let donors pledge per activity students can play to win.
Classic Scavenger Hunt - Give students a specific list of items and see which team can bring back the most completed list first. A stick that looks like a triton or a white rock that can write on the sidewalk can make for great scavenger hunt items. This outdoor school fundraising idea could be as elaborate or simple as you'd like!
Capture the Flag - Break into teams, explain the rules, hide the flags, and watch the fun roll with this highly active classic! If you need a refresher on how to play, here's a great explanation: How to Play Capture the Flag.
Balloon Volleyball - Set up a simple court and break into tournament teams to see who can become the ultimate champion. Variations of this game could be balloon hockey using pool noodles as hockey sticks.
Sports Tournament - Divide the students by mixing all grades together and even have teacher/admin or parent teams all the students will want to beat! Some of the best sports for this kind of tournament are basketball, flag football, soccer, softball, kickball, and dodgeball.
Take Your Outdoor School Fundraising Ideas to Another Level
If you're serious about your fundraising goals, consider using these expert tips to profit your school even more:
Sell fun, themed

t-shirts

to celebrate before, during, and after your big event!
Offer tickets to the event for sale in advance and charge admission at the door. Consider charging a little extra for those who wait to purchase tickets at the door.
Add bonus opportunities to donate, such as face painting or team up with teachers to have students create unique art to sell at your event.
Get sponsorship from local stores to help pay for event expenses or t-shirts.
Open the fundraiser up to families beyond your school. Promote your fundraiser to local preschools, student groups, and churches as a family-friendly activity that's fun for all!
With all these great outdoor school fundraising ideas, you're bound to find one that's right for your school. Give it a try and build community and profits for your school this year!
Back to All Articles