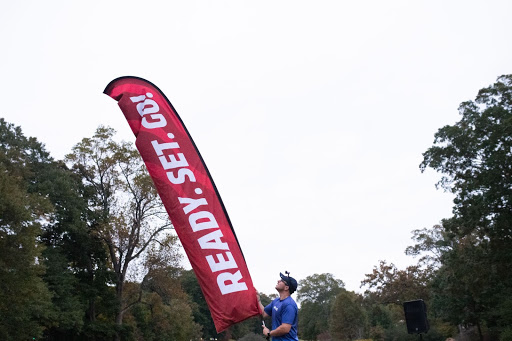 The ABCs of School Fundraising: How to Plan Your Event | Booster
If you've ever volunteered at your school's PTA/PTO, you know the difference good planning makes. With so many responsibilities to juggle, it can be tempting to fly by the seat of your pants and hope for the best. Even if it makes money, a poorly planned school fundraiser can do more damage than good by turning off future volunteers or donors.
In this blog, you'll learn more about:
Planning a school fundraiser can be time-consuming and stressful, but with the right guide, you can leave your volunteers feeling appreciated and motivated, instill confidence in your donors, and have fun along the way. Oh, and make a lot of money for your school!
Whether you're a seasoned volunteer or new to your school's PTA, the following steps will help you take the guesswork out of your next fundraiser.
Step-by-Step Guide to Planning a School Fundraiser
1. Put together a fundraising committee.
The biggest mistake you can make when planning a school fundraiser is trying to do everything yourself. If you've found yourself in a leadership position, start off by organizing a core group of PTA members or volunteers who can help you during the initial planning process.
Depending on your specific fundraising goals, there may come a point later where you need to coordinate a larger group of volunteers – for example, if you're running a bake sale or fun run that will require additional event day staff. At this stage, just worry about putting together 3-5 people who can share the initial work of budgeting, brainstorming fundraiser ideas, and task management.
2. Define your fundraising goals.
Planning a fundraiser without goals is like sailing a ship with no destination. Not only are you likely to waste a lot of time, but you'll probably end up with a "crew" of confused volunteers. Fundraisers work best when they are tailored to specific financial goals, which usually means tying them to a particular project, such as a new STEM program. Knowing your goals from the outset will also help you decide what type of fundraiser(s) to pursue.
Make sure you have clear answers to the following questions before committing to a fundraising campaign:
How will the

funds be used

? (Playground equipment, field trips, tuition help, etc.)
How much money do you need to raise?
It's not a bad idea to communicate with school staff and executive board members for insights on fundraising goals and budgeting.
3. Determine your budget.
Once you know what you're raising money for and how much money you'll need, the next step is to set your budget for the campaign. Just like with your fundraising goals, your budget will somewhat dictate what kind of fundraiser you're able to pursue and what resources you'll be able to invest in to make it happen, such as school fundraising software.
4. Choose a type of fundraiser that fits your needs.
The best approach to planning a school fundraiser is to collect funds from multiple campaigns throughout the year. Many PTAs will raise money through year-round campaigns such as spirit wear sales while also holding events, often annual/recurring ones, a few times a year for specific projects.
Again, it's a good idea to consider your fundraising goals, budget, and resources when brainstorming fundraising ideas. Some fundraisers are more profitable than others; some are more hands-on, while others require fewer volunteers. Finally, you may find that members of your planning committee are especially good fits for certain types of fundraisers over others. Rather than being a limiting factor, this can help you choose a fundraiser that actually puts your volunteers' talents to use, making the work more fun and engaging for everyone.
The good news is there really is a fundraiser out there for every type of project—it just takes a little research. You can use our guide to learn more about all the different fundraising options at your disposal.
5. Create a timeline for your campaign.
Once you've got your destination, it's time to plot your roadmap. You want to have a clear timeline for each step of the process, mapping out exactly when each of the following will happen:
Planning the school fundraiser (i.e., how many weeks or months will this take?)
Promoting the school fundraiser (i.e., when will you start promoting, and how often will you post?)
Kickoff (e.g., if you are kicking off a long-term campaign such as a pledge drive)
Event day (if you are planning an event-based fundraiser like a fun run, auction, bake sale,

dance fundraiser

, etc.)
Collections (when do you hope to have all funds collected by?)
Acknowledgements (when will you plan to reach out to donors and volunteers to thank them for their contributions?)
This is a rough list – your timeline may look slightly different depending on your fundraiser. The important thing is to have everything carefully mapped out so that you can stay on task throughout the campaign.
6. Coordinate volunteers.
Once you know what type of fundraiser you're going to have, you'll need to put together a crew of volunteers. A good rule of thumb is to use parent volunteer forms to create a bank of potential volunteers on call when you need them. These forms should include not just basic contact info but also volunteer availability, schedules, skills and interests; that way, you can tap helpers who will be the best fit for your event.
Remember that volunteers are the backbone of your fundraiser. When coordinating volunteers, make sure to communicate needs clearly, follow up regularly, delegate tasks, treat everyone with kindness and respect, and thank your volunteers during and after the event.
7. Find the right fundraising platform.
School fundraising software has been a lifesaver for PTAs/PTOs and school staff, saving hundreds of volunteer hours and helping schools raise more money more efficiently than ever. The right school fundraising platform can be an incredibly worthwhile investment, so consider factoring this into your budget.
Different platforms exist for different types of fundraisers, and some are more specific while others are designed to be highly customizable all-in-one solutions.
8. Promote your campaign.
Your fundraiser can't make any money if no one knows about it! When planning your school fundraiser, decide how and when you're going to start promoting the event. When the time comes, use every channel available, including:
If you decide to use a school fundraising platform, look for one that lets you share easily to social media, text, and/or email.
Final tips
The work isn't over once the event ends. After your fundraiser, make sure to thank your volunteers, donors, and any partners who helped make the fundraiser happen. Not only is it the right thing to do, but you'll likely need their help again in the future!
It's also a great idea to reconvene with your planning committee to debrief about what went well and what could be improved for next time.
Booster Has Your Back
Booster makes school fundraising easy and fun by walking you through every step of planning a school fundraiser. Our platform is totally customizable, and our caring, enthusiastic team is always at the ready to answer your fundraising questions. Find out how Booster can help you take your school fundraising to the next level.
Related Resources:
Back to All Articles