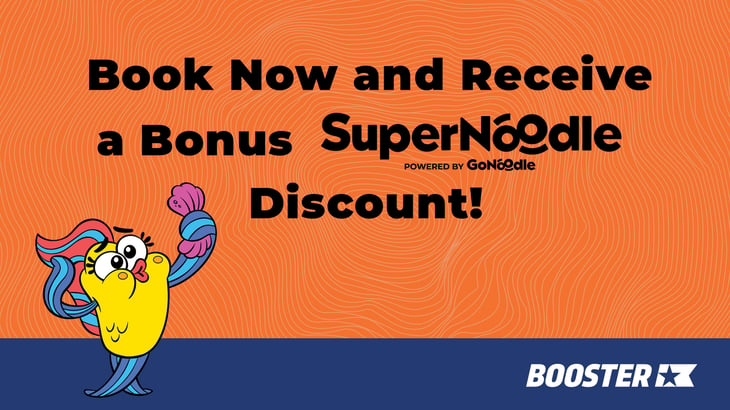 Booster Collaborates with GoNoodle To Extend Social Emotional Learning In Schools Across The Country
School fundraising experts at Booster are partnering with the nationally-recognized team at GoNoodle to introduce its new social emotional learning (SEL) platform for elementary schools, SuperNoodle.
Elementary schools who partner with Booster during the 2023-2024 school year will qualify for an exclusive discount to utilize SuperNoodle, making it easy and affordable to elevate their SEL curriculums.
"Optimum health for children is a mind, body, and spirit endeavor that leads to becoming healthy teenagers and healthy adults. Powerful and fun tools like SuperNoodle can play essential roles in helping teachers lay the foundation for critical social-emotional skills, leading students to thrive in learning and life," said Chris Carneal, Founder and CEO of Booster. "We believe our partnership with SuperNoodle will give a much needed rise to a generation of happier, healthier kids."
According to the Center For Disease Control, one in six children in the U.S. struggle with their mental health. SuperNoodle was developed by teachers, alongside leading health care professionals, to promote self-awareness and emotional wellbeing through a comprehensive SEL curriculum with the same fun and ease that has made GoNoodle loved by teachers and students.
"Booster's partnership with SuperNoodle extends our unified values of helping kids build the fundamental skills of self-awareness, empathy, kindness, and decision making while supporting our educators with easy-to-use, advanced SEL tools for the classroom," said KC Estenson, CEO of GoNoodle. "As schools and districts across the country make an effort to support students' emotional, social, and cognitive competencies, we are thrilled to be able to share our innovative strategies with the Booster community for the upcoming school year."
Booster's mission to help strengthen schools has not waivered for 22 years. Its elementary, middle school, and high school fundraising experiences not only raise critical funds for schools, but also get students physically active and help them build character. Booster's partnership with SuperNoodle brings even more opportunities to elevate and strengthen the schools who fundraise with Booster in the 2023-2024 school year.

Booster and SuperNoodle have partnered together to introduce an exclusive offer for all schools choosing to work with Booster in the 23-24 school year:
Who Qualifies? Schools selecting any of Booster's service or product offerings in the 23-24 school year qualify for the exclusive offer. (Offerings include: MyBooster.com fundraising platform, promotional products and spirit wear, fundraising experiences like fun runs and dance-a-thons, product sales, etc.)


What's the Offer? Exclusive offer includes a discounted rate of $1,999 for a school's first year subscription to the SuperNoodle Platform, which is up to a 65% savings.


Additional Benefits: Offer also includes access to webinars for teachers to help maximize the platform in their classrooms, in addition to entry into a drawing to win one of five epic GoNoodle school assemblies.
To learn more about how to qualify for Booster's exclusive offer from SuperNoodle, schools can visit choosebooster.com/supernoodlebooster-getstarted-lp.
# # #
About Booster
Booster is the leading school fundraising company in the U.S. As the son of an educator, founder Chris Carneal created Booster in 2002 to help strengthen schools. Since then, Booster has offered ever-expanding fundraising services such as school fun runs, fundraising technology, spirit gear and promotional products, product sales and more to help schools thrive by increasing funds and inspiring students through fitness and character-building experiences. More than 800 team members serve 7,500 K-12 schools nationwide and have helped schools, groups and teams profit more than $600 million.
Based in Georgia, Booster embraces the virtues of gratitude, wisdom, care, courage, grit, and celebration. These virtues guide every aspect of its business, from client care, leader development, product development and technical support, to sales and marketing. Learn more at choosebooster.com.
About GoNoodle
GoNoodle is a fast-growing, media, and technology company committed to creating joy, health, and self-discovery in elementary-aged kids (and the adults in their lives). We make videos and games that get kids up and moving and developing their wellness, mental health, equanimity, and resilience. GoNoodle is in millions of homes and more than 96% of U.S. public and private elementary schools. Kids love it because it's fun. Teachers love it because it engages students and reinforces the curriculum. Parents love it because it's meant to fuel their kids and bring them closer. To learn more, visit gonoodle.com.
About SuperNoodle
SuperNoodle is a social emotional learning platform, credited by GoNoodle, that embodies the same fun spirit that has made GoNoodle loved by teachers and kids! SuperNoodle provides schools with a first-of-its-kind, research-based, SEL curriculum for 5-9 year olds. SuperNoodle leverages proven frameworks, continual feedback, and leading-edge, immersive technology that is fun for students and supportive to teachers as we join one another as a force for joy of our children to navigate the stresses of the modern world. Learn more about SuperNoodle by GoNoodle at https://supernoodle.gonoodle.com.
Back to All Articles