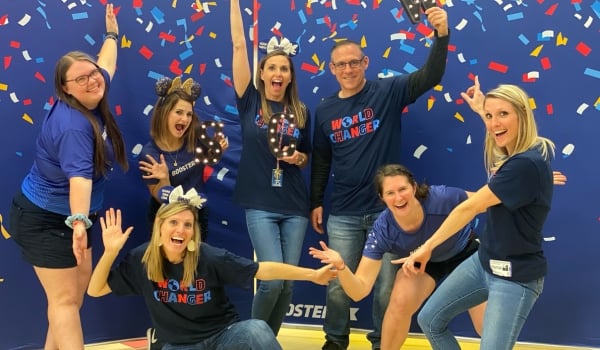 Blue Mountain Elementary Celebrates 10 Years with Booster
Blue Mountain Elementary East in Orwigsburg, Pennsylvania has been raising funds and bringing its school and community together for the past decade by hosting its annual Fun Run.
The school, which recently celebrated its 10 year anniversary with Booster, is a testament to the long lasting relationships we have with the schools our team serves.
"Booster is our family. When they come here every year, the students welcome them with open arms. We enjoy having them on the announcements in the morning, visiting classrooms, and joining us for lunch. So really, it's just like having someone come back home," said Katie Hubiak, the school's assistant principal.
The school loves the energy and excitement Booster brings to its Fun Runs along with the fundraiser's ability to raise all the funds its PTO needs for the entire year with just one event.
The funds Blue Mountain East has raised have gone to special events for the students such as a bounce house rental and a Kona Ice truck as well as much needed supplies for classrooms and teachers.
The funds raised have also allowed every single student to attend every field trip the school has hosted for the past 10 years, regardless of their financial situation.
And while raising these funds may be one of the main goals of Blue Mountain East's annual fundraiser, the school is just excited about what it brings to the students and how the event joins the community together.
"My favorite part about the Booster experience is watching these little kids' faces come out to this field and be so excited. The big arches, the grand music, the incredible atmosphere. The entire community coming together is so epic and so amazing," said PTO President Gina Fanelli.
A decade of successful fundraising with Booster in the books, Blue Mountain Elementary East looks forward to what the next decade of working with Booster will bring to its school. As Fanelli put it, "Just when you think that it can't get any better, it does."
And the Booster team is equally excited for what the future holds for its partnership. Just imagine the amazing resources another 10 years of fundraising could bring to the Blue Mountain Elementary East!
Back to All Articles