What to Expect at a Booster Fun Run Event!
With a new school year kicking off, we are excited to welcome new schools and new students to the Boosterthon Fun Run program. Whether this is your first time partnering with the Boosterthon, or you've been a part of our family for years, the Boosterthon Fun Run event is the high-energy highlight of the program, and for most schools, the highlight of their entire year.
In this blog, you'll learn more about:
So, you may be wondering, "What exactly happens at the Boosterthon Fun Run event?" Here's a quick run-down of what you can expect at the end of our 9-day fitness, leadership, and character-based program.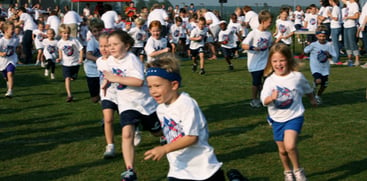 Eight days before the Boosterthon Fun Run event begins, students will learn about this year's character theme, Epic Adventure, and how great teams Encourage, Play, Invite, and Celebrate together. Each day brings a new character action to learn and another day closer to the Boosterthon Fun Run event. Our fun, fitness event will Encourage your children to let loose, be active and Play with their classmates! All parents, faculty, and community members are invited to join us by attending the event and cheering on students as they run an average of 30-35 laps around the Boosterthon Speedway. The Boosterthon Fun Run event is also designed to Celebrate every student learning valuable character and leadership principles while helping their school.
Typically held on the school's outdoor field, the Boosterthon Fun Run event is a high-energy day, full of enthusiasm from students, teachers, and of course, Boosterthon team members. Each grade assembles on the track and has a blast running laps while parents and teachers cheer them on, waving homemade signs, snapping pictures, and clanging Bam-Bams provided by the Boosterthon team.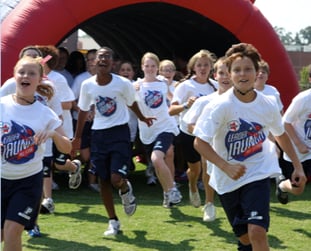 Upbeat music plays continuously through the speakers as Boosterthon team members join the students around the Boosterthon Speedway, dancing and running to themed laps. You may see students laughing in a conga line, whipping lassos around their heads, driving a racecar, or racing a Boosterthon team member. Our goal is to provide an enjoyable experience that builds community and school culture, while including fitness in the students' school day.
Last year students ran 8,450,000 + laps at the Boosterthon Fun Run – that's the equivalent of 528,133 miles!
With everything happening outside on the field, don't miss what's inside the school—impressive decorations by the parent organization, teachers, and students. Vines, trees, jungle banners, and decorated doors and bulletin boards showcase the Epic Adventure theme; our schools really get into the spirit and go all out!
The 9-day program is definitely an adventure for each student and culminates in what we hope is an uplifting experience that is sure to make your family's highlight reel.
The Boosterthon Fun Run is a fundraising company designed for America's top schools. Since 2001, Boosterthon's taught millions of students across the nation about the importance of fitness, leadership, and character while helping schools raise needed funds. To inquire how our unique fundraising program can help with your school's fundraising needs, visit www.boosterthon.com/contact.
Back to All Articles