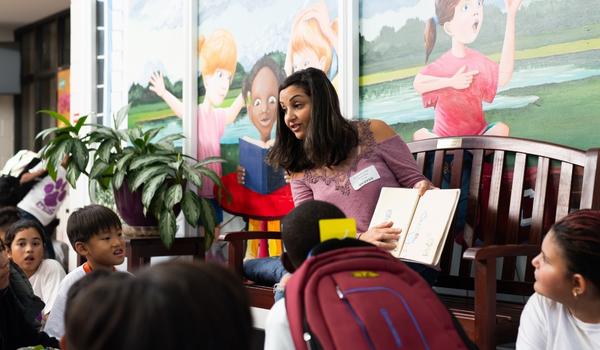 Volunteer Time: Making the Most of Your Valuable Resources | Booster
Volunteers are the backbone of our nation's schools. Their selfless hours of service, both inside and outside the classroom, plays a vital role in helping schools achieve their goals.
School fundraising volunteers play a particularly critical role, as the funds they raise make all the difference in allowing schools to secure much-needed resources for everything from additional library books, reading software, and school laptops to playground equipment and covered sidewalks for bus lanes.
Boosterthon does the heavy lifting so fundraising volunteers don't have to
At Boosterthon, we love school volunteers. In fact, we recognize a deserving volunteer each month, thanking them for their dedication to their schools. Our Volly Awards highlight the role these school heroes play, many of them serving their school for years, doing whatever is needed to make the school thrive.
In Booster's 20 years of partnering with schools, we've learned a lot about these mighty school supporters. As a result, we've designed our entire program to take the burden off fundraising volunteers. Here are a few examples:
- With our full-service program option, your school needs only ONE fundraising volunteer in order to host an epic fundraising event. Boosterthon's team takes care of all the details so your school can enjoy a fundraiser that has delighted 12.3 million students and profited schools over $400 million since 2002!
The role of this one volunteer is simply to serve as the primary liaison between Boosterthon's team and your school. Boosterthon offers two other service levels to choose from as well, both only requiring a maximum of 4 to 8 volunteers.
- Every volunteer knows the value of communication with parents, teachers and students. Boosterthon maps out the perfect communications plan for your school's fundraiser and provides all the necessary materials – from emails and announcement scripts to signs and banners. Fundraising volunteers simply provide insights to our teams about the best ways to reach out to families.
- Boosterthon's easy, digital fundraising platform allows donors to contribute online. This saves volunteers hours counting and entering checks and cash. At the end of the fundraiser, when volunteers are typically at their most exhausted and face hours tallying totals, Boosterthon can tally totals and prize winners for them with the click of a button. This saves fundraising volunteers an average of 50 hours per fundraiser!
- For your big fundraising event, our team members handle every aspect of set up and break down – a task that normally makes for long days for volunteers and often falls solely on them.
- Often volunteers miss out on the fun at their big fundraising event because, well, they're volunteering at it! That is not the case for fundraising volunteers at a Boosterthon event. Volunteers are free to enjoy the event alongside students.
Fundraising volunteers give their time, energy and expertise to schools so students can have more access to educational opportunities, fun events, and field trips. At Booster, we are honored to serve the servants who make all this possible for your students!
Back to All Articles