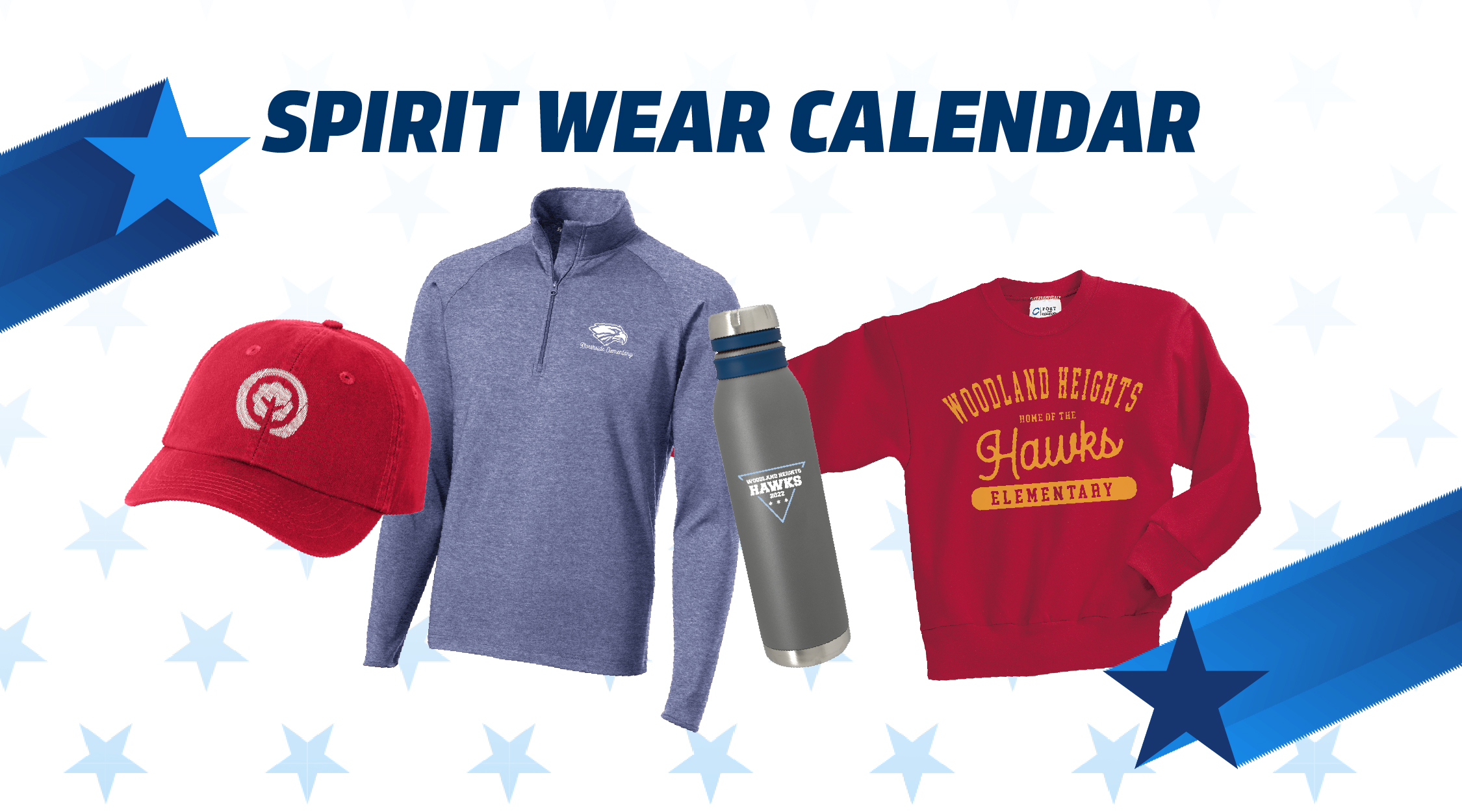 Spirit Wear Calendar: Raise Spirits + Funds on Schedule | Booster
Spirit gear has always been a great way to bring community together around school pride, but selling spirit wear is often left as an afterthought for parent teacher organizations.
This school year, get ahead of the game and create a strategy that helps your parent teacher organization profit from spirit wear all year long! You won't miss a thing with this special calendar we created to help you spread that school spirit feeling.
Get inspired and discover all the fun you can have with spirit gear this school year, when you download this useful calendar today!
APRIL - JUNE
With the end of the school year in your sights, there is still so much to celebrate! Hopefully, you've raised funds with online spirit gear stores or a school fundraiser and you're ready to take on one of the most exciting times of the year with confidence!
If you are looking to say thank you…
The spring is full of "Appreciation Days" for school staff. We've named a couple below to help you out. You don't want to leave anyone feeling unappreciated.
Plan ahead for these upcoming days:
National Volunteer Week: April 18, 2021- April 24, 2021
Administrative Professionals Day: April 21, 2021
Teacher Appreciation Week: May 3, 2021- May 7, 2021
If you are looking to celebrate…
Graduation season is upon us and what better memorabilia than the tried-and-true graduation t-shirt? As students graduate, send them off with a wearable memory of the amazing school year that has passed!
Other fun ideas include drinkware such as cups or mugs, fun stationary, or personalized mementos great for their age, whether that's elementary, middle school, high school, or even college!
If you are looking to raise funds…
As a last "hoorah" for your fundraising and community-building efforts this year, we recommend camp-friendly and warm weather spirit gear in a "Summer Sale." Your students can continue broadcasting school pride with their spirit gear, even in the time off!
Have one of our experts in spirit gear tell you about the most popular options for spring!
JULY - SEPTEMBER
For many, the early days of summer vacation are starting to wind down as you hit mid-July. Schools are closed, but you are starting to think about what the year is going to look like in the fall and strategizing on how to make this the best year ever for your school.
If you are looking to raise spirits…
Back-to-school fairs are a great way to welcome all of your school community back with open arms. Use this as a way to come back with an intentional effort to foster a feeling of togetherness.
Spirit wear is a great way to get your school on the same page (and in the same gear). You have options when it comes to how you'd like to do this! Make a bulk order ahead of time and feature a popup shop at your Back-to-School Fair. Or skip the bulk order and have an online BoosterGear store to provide a great digital experience for families at the Back-to-School fair and give them the option to browse and buy the latest styles online.
If you are looking to raise funds…
We recommend setting up a "Spirit Wear Staples" online store in the weeks leading up to your return to school date. With direct shipping, all of your families will have their new school swag ready for day one! Plus, spirit wear stores are a great way to get a jumpstart on raising funds for your budget.
Your spirit wear consultant will walk you through the best practices of our most successful stores, or you can read more about them here.
If you are looking to say "Thank You"…
Teachers, administrators, and parent organizations all work hard to keep the school year running. Purchase welcome kits for your parent group or teachers for back to school (or use the money raised from your last online store) to give everyone a much needed boost for the year ahead.
Items like shirts, tote bags, and tumblers are a small way to say "thank you" with a big impact! Add a little extra "surprise and delight" by including some school supplies or the teacher's favorite snack with this gift.
Have one of our experts in spirit gear tell you about the most popular options for back-to-school.
OCTOBER - DECEMBER
Schools are back in the swing of things and everyone is settled into a new routine, but the weather is changing and holiday season is right around the corner.
If you are looking to raise funds or spirits…
Set up a "Fall into Fleece" online store at the beginning of the season in order to keep your students and staff outfitted in your latest (and warmest) school gear!
Depending on your needs, this can be set up as a community builder or a way to raise funds. Your personal spirit wear consultant can help you decide what is best for your school!
If you are looking to say "Thank You"…
More than ever before, we all have a sense just how special teachers are to our students. For the holidays, show your school staff how important you think they are with a customized "thank you" gift.
Have one of our experts in spirit gear tell you about the most popular options for next fall and holiday stores.
JANUARY - MARCH
Back to school post-holiday season brings a brand new excitement! With half of the school year under your belt, you have a clear line of sight to the end of the school year, but don't get ahead of yourself just yet! If you are able to be intentional about your spirit wear strategy in the early part of the new year, you can help fund some of those end of year celebrations.
If you are looking to raise spirits…
Field Day is an all-time favorite for many students and with good reason! It is one day of the year where everyone takes pause to get active and have some fun. Start thinking early on about sunglasses, water bottles, and shirts for your school celebration.
If you are looking to raise funds…
"Ring in the Spring" online stores often feature new warm weather spirit wear to get students geared up for the spring and summer months ahead. Tank tops, t-shirts, and tote bags are some of our favorite featured items for these!
Now that you're inspired with all the possibilities, it's time to grab a (free) consult with an expert spirit gear consultant. They'll make it easier than you could ever imagine to have all your spirit gear dreams come true!
Back to All Articles