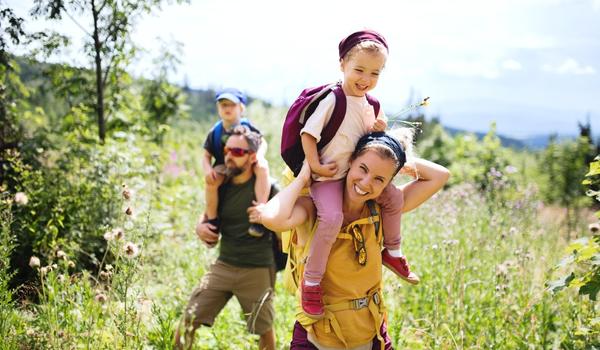 Family Fun Vacation Ideas | Booster
There is an overwhelming number of options for summer vacation each year. The question is, "What exactly do we want to do?"
Finding a balance between budget friendly and fun is difficult but not impossible! Here's some inspiration to help you find the best of both worlds for your family this year.
Ask the right questions
There are a lot of factors to consider when planning your family vacation.
What will your budget allow?
Do you have the time available to take off work?
Do you have other obligations that make leaving home for a week more difficult?
Do you have a young family?
What is something that will appeal to everyone in the family?
What options are in your area?
Are you willing to travel a long distance?
When we think of vacation, we instinctively think of a week of fun away from home. What that looks like for each family will be different. It could be anything from a stay at the beach to a road trip across several states to a quiet mountain cabin (or tent) at a state park. I
The Alternative to a Vacation…a Staycation
For some families, a vacation as described above is not an option. That's where the staycation comes in!
This is an opportunity for your family to think outside the box and become a tourist in your local area. Sit down as a family and decide what activities are available to you within a certain distance from your home. Ideally, less than a two hour drive so you aren't spending most of your time driving.
Make a list of the ideas you all really would like to experience and put it to a vote! Remember, it's still a vacation so you probably don't want to get up super early or do a whole lot of cooking and cleaning during the week. Treat your staycation as much like an out of town vacation as you'd like.
Staycation Ideas:
A zoo
Botanical gardens
Hiking at a nearby state park
Nearby attractions or theme parks
Local historical attractions
Animal parks
Water parks
Mini golf
Petting zoo
Local farms
A train ride
What's great about a staycation is that you still set aside space to be intentional as a family and spend time together, but it's much more laid back. Bonus: You get to sleep in your own bed each night!
Fun all Summer Long
If a vacation or even a staycation is not an option that fits your family, we've got that covered, too!
Instead of setting aside an entire week, which can be difficult sometimes, find activities that can be done in the evenings or on weekends. Choose to do at least one activity each week of the summer.
The key to this option is choosing nearby attractions, events, and activities, and even planning for some in your own backyard. Be sure to get the whole family involved. We are talking about simple things, so no stress! Activities like…
A summer reading program at your local library. Visit the library before summer begins to get all the details, but many local libraries have reading incentives for children as well as activities and events planned throughout the summer completely free for families!
Local state parks. Your local state park most likely has nature trails, hiking, and fishing available. Many of them have geocaching, swimming, and boating. Pack a picnic and spend as much time as you can.
Gigantic slip-n-slide. You could purchase a slip-n-slide, yes, but you could also make your own that is much bigger than those you can buy in the store. All you need is a big piece of plastic, a water hose and sprinkler, and some baby soap -- just to add to the slippery fun!
Summer cookout and kickball game. Don't pass up this backyard fun! Treat it like you would if you were on a vacation cooking up burgers and hotdogs. Spend the evening outside and follow up your meal with a family game of kickball!
Water obstacle course. This is another backyard favorite. The sky's the limit with what you could do. As long as you have water hoses, some kiddie pools, and a little bit of imagination, there's tons of fun to be had. You could even freeze large blocks of ice to add to your course, especially if you live where the summer heat is intense!
Have an ice cream sundae bar. If you have an ice cream churn, make homemade ice cream and have a create-your-own sundae bar. If you don't have your own churn, it's not a huge investment, and everyone will have tons of fun making your own ice cream. Don't forget the cookie crumbles, gummy bears, M&Ms, sprinkles, Magic Shell chocolate, and caramel, strawberry, and chocolate syrup!
Build a teepee and spend the night in it. Seriously, this is tons of fun! And your kiddos will thank you over and over for this one! Look up "how to lash a teepee" if you don't know how. Then wrap it with blankets. Throw some sleeping bags inside and cozy up for a movie and popcorn!
Dance in the rain. Don't let summer pass without a dance in the rain with your kiddos! Just remember to be safe and if there is any thunder or lightning, do it another day.
Catch lightning bugs. All kids love catching lightning bugs in a jar. It's a summertime favorite. If you don't have a good lightning bug population in your backyard, go to a local state park or somewhere you have seen them. Also, read together Leo the Lightning Bug by Eric Drachman. It's sure to become a favorite in your home!
Go to a drive-in movie. If you have a drive-in movie theater nearby, take the family. It's a fun experience if you have never tried it!
Have a water balloon fight. Have a good, old-fashioned water balloon fight. This will delight every "child" in your home. Be sure to purchase more than you think you will need because they go fast, and you won't want it to end!
Summer scavenger hunt. Go on a summer scavenger hunt!
Pro tips
Don't be tempted to pack your vacation itinerary full in order to experience as much as possible. Take it a bit slower to enjoy the ride. With kids, it's better to have more downtime than a jam-packed schedule. Actually, we all could use more relaxation than the constant go, go go! Balance is the key to a fun-filled summer.
Whether you go on a vacation, choose to do a staycation, or opt to spread your summer fun over the whole summer, we hope you will enjoy some of these family fun vacation ideas this summer!
Back to All Articles