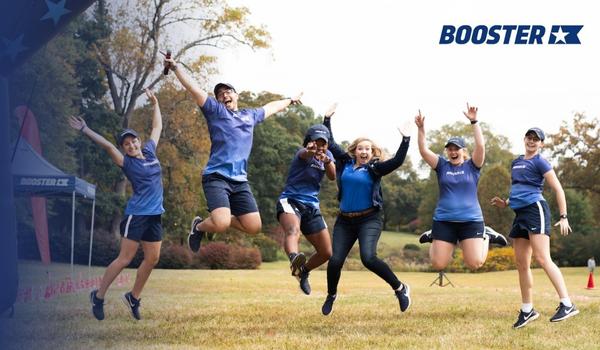 Booster's 20th Anniversary Strengthening Schools Grant Program
It's back to school time! A busy, bustling time of the year when parents are busy shopping for school supplies, PTO leaders are planning for the upcoming year and the school staff is readying their school to greet new and returning students.
We know how much work goes into supporting schools year-round, from planning curriculum and hosting fundraisers to applying for school grants and running events. The last few years have been more challenging than most with closures, remote learning, and limited in-person activities.
That's why this year, in honor of Booster's 20th Anniversary, we're giving 20 elementary schools a boost with a $1,000 grant to celebrate and serve their school community as part of Booster's 20th Anniversary Strengthening Schools Grant Program.
How Booster's 20th Anniversary Strengthening Schools Grant Program Works
Who can nominate: school parent organization leaders or administrators can nominate an elementary school now through September 15, 2022 for a chance to win a school grant for $1,000.
How to nominate: Fill out the nomination form online. All elementary schools nationwide are eligible (K-5, K-8 or K-12), but funds must be used on elementary school grade projects.
Winner selection: twenty winners will be selected with a random drawing and announced the week of October 15, 2022. See more details on the grant rules.
What would your school do with $1,000 in grant money?
For a little inspiration, here are five ideas on how your school might use the grant money:
Organize a community service project. Host a special school service project to benefit your local community. Include students, staff and volunteers to organize, participate and come together to support a worthy cause.
Host a fun family event. With schools back in person, now is a great time to bring kids, parents and staff together. Host an event that celebrates something special, and add a theme: a movie night, Spring or Fall festival or holiday celebration.
Bring in a book author or special guest. This is a great, unique way to add something new and different to your curriculum and have parents participate too. Kids love to meet new guests like authors to explore new books, genres and characters.
Appreciate your staff and volunteers. Do something special to celebrate those who work hard to provide for schools. What kind of dinners, gift cards, luncheons, surprises, etc. would $1,000 make possible for your school staff and volunteers?
Celebrate school spirit. To build school spirit and camaraderie among students, supply school spirit wear to everyone, and celebrate at a pep rally or fun school field day.
In the last 20 years, Booster has been fortunate enough to work with parent volunteers at more than 4,000 schools nationwide. We are honored and excited to give back with Booster's 20th Anniversary Strengthening Schools Grant Program.
Here's your chance to give your school an additional boost this school year. It's simple, easy and takes less than two minutes - nominate your school today!
Back to All Articles