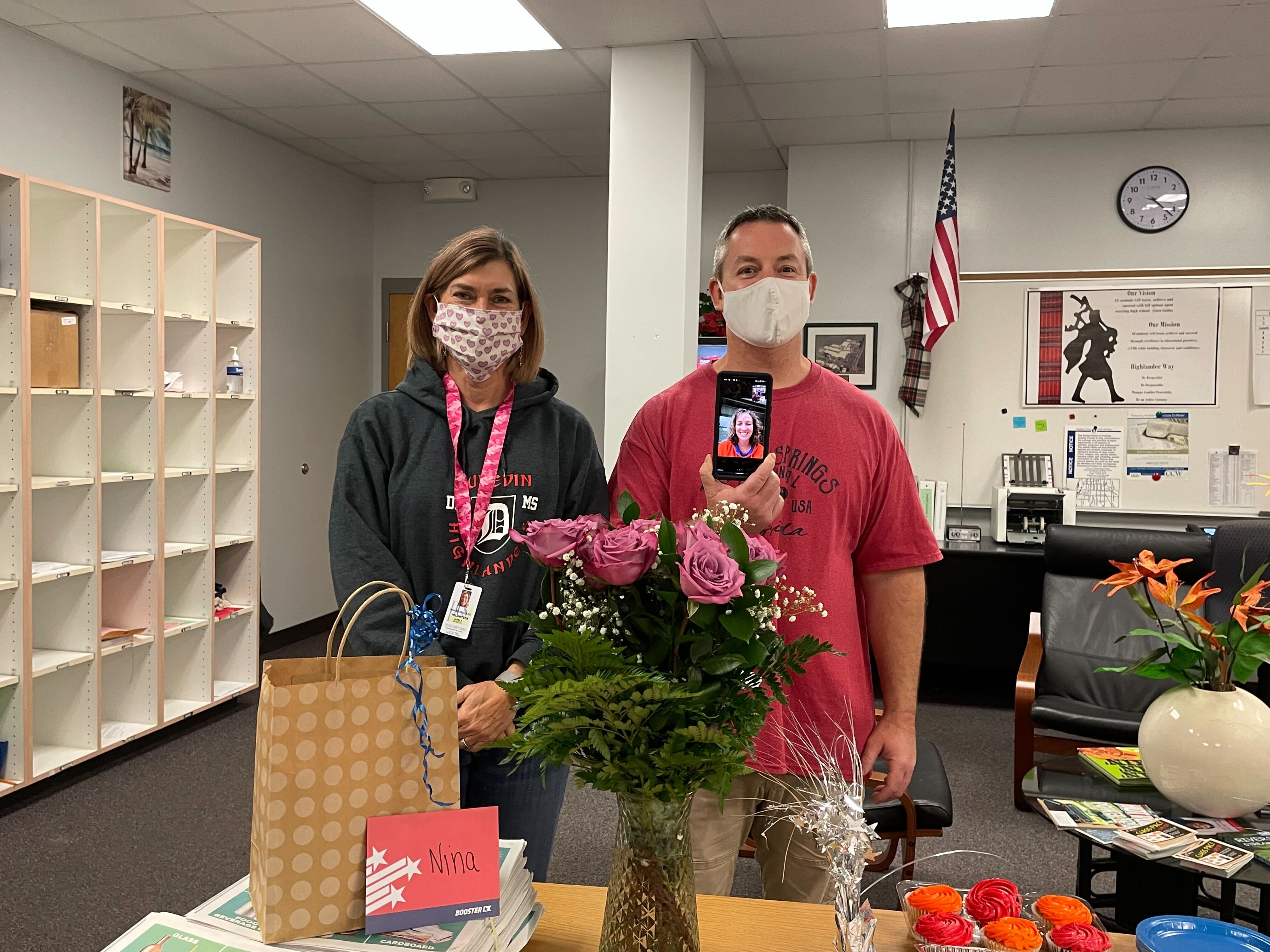 Nina Moorehouse Wins Volly Award for Volunteer Efforts | Booster
With twin teen sons and a 16-year-old daughter, Nina Moorehouse has been volunteering in her kids' schools for more than a decade. So she was a fitting choice to be selected by Boosterthon as its most recent Volly Award winner. Boosterthon created the award program to honor volunteers who are quietly working behind-the-scenes to help schools maximize their positive impact on students.
When Nina enrolled her boys in the Dunedin Highland Middle School magnet program, it was an easy decision to accept a position on the PTA board. She had served on boards in the past, volunteered weekly in each of her children's elementary classrooms, and was excited about the opportunities she could create for students at this school by serving on its "small but mighty" PTA.
Nina was nominated by Dana Robinson, a fellow PTA board member, elementary school teacher, and parent at the middle school. "Nina has been volunteering for many years," said Dana. "She has been on the PTA board as Treasurer and takes on many other roles. The board has been very small at our school, but she has been there for years making PTA events a success and been a guiding force to support and keep PTA going -- and growing. She continues to make PTA the best it can be and make sure that programs continue every year to support families, students, teachers, and staff."
Traditionally, middle schools are more challenging for PTA leaders. Kids are independent and parents are not as involved. Dunedin Highland has a student population of over 1,000, all with different backgrounds, interests and learning abilities.
"Early in the year, the entire PTA team began focusing on how to engage teachers, students and families and looking for ways to ensure that all the students had the same opportunities," Nina said.
The PTA works hard to organize events, resources, and activities that benefit the students, families and teachers at the school. Their PTA has funded and supported:
rewards programs

the 8th grade dance

Great American Teach-In

grade-level awards

National PTA's Reflections program

Teacher Appreciation

end of year student celebrations, and

a special COVID fund to support germ-fighting measures at the school.
In her 5 years on the DHMS PTA, they have grown support from teachers and increased parent involvement, which Nina believes benefits both students and teachers.
Volunteering comes naturally for the whole Moorehouse family. In addition to Nina's years supporting schools, she is also very involved with the Suncoast Animal League, which rescues dogs and cats. She works in their thrift store, has fostered several dogs, and she and all three children have volunteered with Suncoast's events. Her daughter was a Girl Scout for nine years and both boys were Cub Scouts – all of which involved countless hours of volunteering. One son, now a Boy Scout, is working toward his Eagle Scout honor.
As a Volly winner, Nina received a $150 Amazon Gift Card and 50 custom shirts (courtesy of Booster Spirit Wear) for Dunedin Highland Middle School as a thank you for her contributions to the school's students, faculty, staff, and community.
"I'm not a superstar," Nina said. "I'm just a part of a bigger picture and appreciate the leadership of Principal Vasallo, who truly supports the children. I've learned so much from the wonderful people at this school, including other volunteers and PTA leaders and the administration. I'm no more special than any other person here. I'm just the lucky one who was nominated for this award."
Congratulations, Nina!
Do you know a deserving volunteer? Nominate them for a Volly Award!
Back to All Articles