Kid-tastic Character Videos | Booster
Our popular character videos are more fun and interactive and than ever. Students will follow Chuck Friendly, the hilarious Camp High Five news reporter, as he reports all the breaking news and sticky situations at camp.
Complete with 40 total minutes of crafted character entertainment, plus two music videos, students will learn the importance of friendship by watching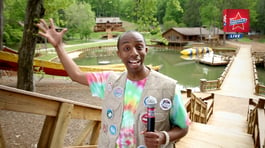 our videos at school and online at home, all while experiencing the best of summer camp.
PARENTS! Want to know what your student learned at school with the Boosterthon? You can watch the extended versions of each character video on funrun.com to keep up with your student's character building.
Download the Character App. (Just search "Boosterthon" in your Apple or Android store)
Experience our theme. Watch the Camp High Five music video.
https://vimeo.com/71840851
Back to All Articles