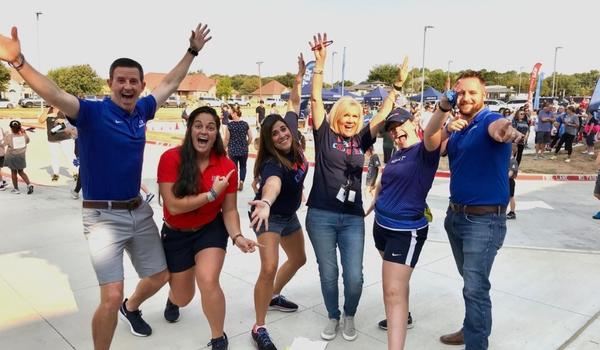 Booster Event Helps Enhance Outdoor Art Garden | Booster
The administration and PTA of Florence Elementary had a specific goal in mind for this year's school fundraiser. Their new campus location featured an outdoor art garden, but it needed additional seating.
Although it was the school's third year of working with Boosterthon, Principal Jacque Hughes knew this year would have unique challenges. "We were building a new school," she said. "So we were more limited on space and how to make the activities work."
The Boosterthon team set in motion a flexible plan to ensure they addressed logistical concerns, while also meeting Principal Hughes' desire to protect students' learning time. "They always meet those expectations," she said about Boosterthon team members. "They listen; they're available; and they care."
The team's care shined when, during the week's activities, Hughes faced a medical crisis with her mother. "Boosterthon was so kind to me," she said. The team sent her flowers and a note to let her know they were thinking of her while she was away caring for her mother.
Back on campus, PTA leaders collaborated with the Boosterthon team to ensure that parents were engaged early and often throughout the program. Boosterthon worked with administrators and teachers to develop a program that met their specific needs without being a distraction. Ultimately, the team created a week of exciting activities for students and teachers, culminating in a school-wide Fun Run.
"Our families love Boosterthon," said Principal Hughes. "The Fun Run is an event where they can come out and participate with their children. It brings the campus and the community together."
Thanks to the immense support from families and the community, the school profited $43,000, which will partially be used to fund seating at the outdoor art garden.
The success of the event was both professional and personal for Principal Hughes. "The Boosterthon team showed me they are not just here for the kids or making money. They want to make a difference in the lives of all the people they serve."
Back to All Articles