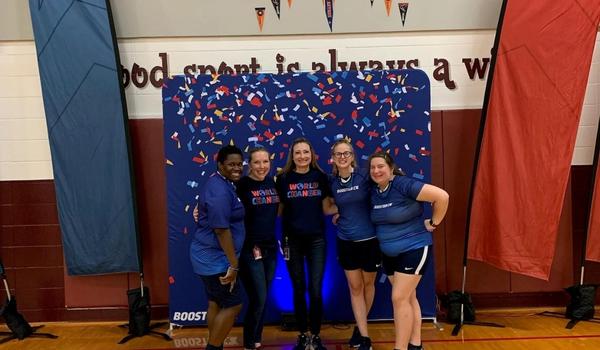 Booster Event = More Classroom Tools for Teachers | Booster
As parents arrived for pick up at Fairmont Elementary School with the music playing, banners flying, and students and teachers dancing in the carline, it could only mean one thing: Boosterthon was back!
This year marked Fairmont's fourth Boosterthon event and its biggest success ever, raising more than $32,800 in school profit. The fundraiser combines character traits like confidence, humility and curiosity with the importance of being physically active to motivate and excite students and teachers.
The Boosterthon team spent several days on campus interacting with students and sharing the program's character traits leading up to the Fun Run finale event for all students.
"The Boosterthon team's visibility with the student body created a great deal of spirit with the kids," said Kelly Chadwell, president of the school's Parent Teacher Organization (PTO). "The character lessons are impactful" she continued. "Students didn't just watch videos and walk away. They absorbed them and I feel they can apply them in their daily routines."
Funds raised will be used for educational programs for teachers in their classrooms, as well as other expenses not covered by the school district. It will also be used for a longer-term project to build a cover for the drop off/pick up lines.
The PTO played an important role in the school's fundraiser, including helping to communicate with parents and teachers. "The school was still closed to family visitations, which kept them from being able to attend the actual Fun Run," said Chadwell. "But the ease of signing up online and sending links to family members is great!" She said many family members and friends also used the online forum to send notes to cheer on the students.
School staff was also very motivated and supportive of Boosterthon. Many teachers wrote thank you notes to the PTO for a fun and successful event.
"Boosterthon's communication and support is above and beyond, which helps with everyone's involvement," Chadwell continued. "We have been very pleased with all of our results from Boosterthon. The energy from the team is unparalleled."
Back to All Articles