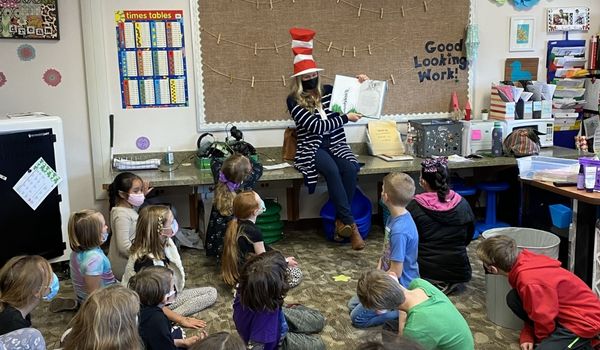 Booster Selects Alana McCarraher as Volly Winner | Booster
Moving to a new community, especially in a new state, can be overwhelming. But Alana McCarraher made the most of it, quickly getting involved at her daughters' school.
Alana's efforts led to her being nominated and selected as the March Volly Award winner, which celebrates volunteers who work quietly behind-the-scenes to positively impact students.
When Alana's family moved from Albuquerque, New Mexico to Boise, Idaho in January 2020, she began volunteering at Lowell Elementary School. Being new to the area, she didn't know many people, so joining Lowell's Parent Teacher Student Association (PTSA) was a great way to meet new friends.
Soon she was canvassing the town and interacting with local business owners to request donations for the school auction. As a previous television reporter and current real estate agent, Alana's job experience helped her effectively tap into resources for the school.
After a lull in PTSA activity due to the pandemic, Alana was asked to take on the job of fundraising chair, where she would lead fundraising efforts for the school.
Fellow PTSA volunteer Thy Harelson said Alana spent tireless hours creating events, calling local companies, organizing volunteers, and guiding new volunteers.
"Alana deserves kudos because these are the people we need as school volunteers," Thy said.
Alana managed three different fundraisers that year. Another volunteer led an effort to obtain grants. Together, along with generous support of the school families, the PTSA raised enough to install a quarter mile asphalt track around the school field. The track will be accessible to community members for exercising as well.
In addition to the track project, Alana's work as the PTSA fundraising chair also helped fund school field trips, art projects, and teacher "foundation accounts," which allow teachers to purchase supplies for their classrooms at no cost to them.
As a Volly winner, Alana received a $150 Amazon Gift Card and 50 custom shirts (courtesy of Booster Spirit Wear) for any event at her school.
Alana's time spent volunteering helped her daughters, ages 8 and 12, get involved too. "They have a sense of pride in knowing that we are supporting their school," Alana said.
Grateful to have found a fantastic school and wonderful friends, Alana encourages others to volunteer in schools. "There are so many ways – large and small – for parents to help at their child's school. Even if you only have an hour a week, there is definitely a way to get involved."
"It's great meeting people and knowing that I'm part of an amazing community," Alana continued. "People here care about our schools and love being involved in their kids' education."
Thanks for all you do, Alana! We salute you!
Back to All Articles